by Patricia M.DeMarco, Ph.D.
Fifty years ago, on July 20, 1969 Neil Armstrong set foot on the moon, marking the first time humans had stepped out in space: "One small step for a man, one giant leap for mankind."[i] The iconic images of our fragile blue planet spinning in the vast reaches of space cemented the perception of Earth as our only home. This giant leap in perception of the fragility of our planet set the stage for many of the environmental protections written into law in the United States during the 1970s.
The living earth fueled by the power of the sun provides the essential elements of our life support system: fresh air, clean water, fertile ground, and the biodiversity of species that constitute the interconnected web of life, of which humans are but one part. The gifts of the living earth include the many ecosystem services that humans rely on without thinking about them. The supporting services that provide nutrient cycling, soil formation, habitat formation and primary production; the provisioning services that produce food, fuel, wood and fiber and fresh water; the regulating services that temper the climate, control flooding, control pests and diseases, and purify water; and the cultural services that offer spiritual, aesthetic, educational and recreational benefits.[ii] This priceless life support system is in crisis. Burning fossil fuels has accelerated the accumulation of greenhouse gases, carbon dioxide and methane, leading to global warming. Resource extraction to obtain fossil fuels and other minerals has destroyed nearly one third of the natural habitat areas of the earth. Human populations, with life spans extended by modern health treatments, have spiraled beyond the carrying capacity of the natural world as the world's people increasingly model their behavior after the Western standard of hyper-consumption. These four stresses on the earth have produced the twin existential crises of our time- global warming of the climate and global pollution, especially from plastic materials.
Solving the existential crises of global warming and global pollution is not a technology problem. It is a moral and ethical problem. The laws of Nature are not negotiable. We must change the way our society operates to abide within the laws of Nature in ways that can sustain life on earth. The United Nations Brundtland Commission in 1985 framed the concept of sustainability as "meeting the needs of the present without compromising the ability of future generations to meet their own needs." This concept implies a commitment to preserve the well-being of future generations on a global basis.
The most recent United Nations Report of the IPCC[iii] finds that limiting global warming to 1.5°C requires "rapid and far-reaching" transitions in land, energy, industry, buildings, transport, and cities. Global net human-caused emissions of carbon dioxide (CO2) would need to fall by about 45 percent from 2010 levels by 2030, reaching 'net zero' around 2050. This means that any remaining emissions would need to be balanced by removing CO2 from the air. "Limiting warming to 1.5°C is possible within the laws of chemistry and physics but doing so would require unprecedented changes," said Jim Skea, Co-Chair of IPCC Working Group III.[iv] Achieving a more sustainable path for modern civilization requires an adjustment of priorities.
In the current system of the global economy, business decisions and government policies, especially recently in the United States, place highest value on monetary gains, with diminished or minimum weight on environmental and social values. This heavy stress on economic outcome regardless of environmental or social damage or inequity has resulted in rapidly accelerating deterioration of ecosystems, habitat, and quality of life across the country, and in many places around the world.
To achieve a more sustainable civilization for our children, preserving and restoring the ecosystems that provide our life support system must assume a higher value in decision making at all levels. Likewise, to achieve a higher level of equity, justice, and fairness, the social and cultural values that provide quality of life must have higher importance in all levels of decision making.
Pollinators provide essential eco-system service
The industrialized economy takes the basic premise that the resources of the earth are available for exploitation giving profits to investors. The land is not restored or regenerated as part of this process because there is no immediate profit in restoration. Only when regulations require remediation or protection do most corporations indulge in repair of damaged land. Likewise, to maximize profits, labor is paid as little as possible, with investment in machinery to reduce labor costs as much as possible. The entire tax structure and investment reward strategy of our current U.S. economy rests on these concepts.[v]
The earth is a living system of which humans are but one part; not human property to be owned or destroyed for profit. The laws of nature co-evolved over millions of years – chemistry, physics, biological and physiological responses to conditions in the environment -define complex inter-relationships among all living things and connect the living earth elements with the mineral and inert elements. These functions are inherent in living systems, priceless attributes of the living earth that are not reflected in the drivers of the economy. To achieve meaningful and lasting solutions to the existential crises of global warming and global pollution, the laws of nature must be incorporated into the practices of civil society.
Indigenous Peoples all around the world have long recognized the necessity of living within the laws of nature and do so by respecting the rights of the living earth. A gathering of Indigenous Peoples in the People's Climate Conference at Cochabamba, Bolivia in 2010 adopted a Universal Declaration of the Rights of Mother Earth that was introduced at the COP-15 meeting in Paris in 2015 arguing for a 1.5°C increase above pre-industrial ceiling for global warming. The goal of a 1.5°C ceiling was incorporated into the Paris Climate Accord of 2015 signed by 195 nations due to these efforts. The justification for this action states in part:
We the Peoples and Nations of Earth are all part of Mother Earth, an indivisible, living community of interrelated and interdependent beings with a common destiny; and … Recognizing that capitalism and all forms of depredation, exploitation, abuse and contamination have caused great destruction, degradation and disruption of Mother Earth, putting life as we know it today at risk through phenomena such as climate change … establish this Universal Declaration of the Rights of Mother Earth.[vi]
The Universal Rights of the Living Earth
The Indigenous Peoples Congress defined ten Universal Rights of Mother Earth.
The right to life and to exist. The diversity of living plants, animals and micro-organisms on earth have a right to life and to exist. The complex interactions among the parts of ecosystems work best when all the components are in place and functional. Human habitat destruction, exploitation, and life cycle interruption drive hundreds of species to extinction.
The right to be respected. Indigenous Peoples lived on the Earth for thousands of years in harmony with Nature. Colonial appropriation of lands, especially for resource extraction, has destroyed many cultures. The cultural wisdom of Indigenous Peoples holds great value for guiding the transformation of society.
The right to regenerate bio-capacity and to continue vital life cycles and processes free from human disruption. Human activities have permanently destroyed habitat, for example by converting rain forests to mono-crop plantations. Entire ecosystems have been disrupted by such activities as strip mining and mountaintop removal. Global pollution of air and water have damaged the viability of many living things. North American bird populations have declined by 29% since 1970 due to habitat loss.[vii]
The right to maintain identity and integrity as a distinct self-regulating, and interrelated being. Complex symbiotic systems such as coral reefs, wetlands and rain forests are compromised by human actions both directly by development and exploitation and indirectly by the effects of pollution and global warming. The Great Barrier Reef in Australia has experienced fatal bleaching for 50% of its range. [viii]
The right to water as a source of life. Fresh water is a critical indicator for the viability of all living things on earth. Co-evolution of the integrated living systems currently on earth depend on the availability of fresh water. Over 140 million people are expected to face migration due to prolonged drought caused by climate change by 2050.[ix]
The right to clean air. Air pollution transcends local, regional and continental boundaries. In many parts of the United States, pollution has reduced the distance and clarity of what we see by 70 percent. One in four children in the U.S. have asthma. Global air emissions contribute to global warming, ocean acidification, and particulates
The right to integral health. The concept of health as a universal right recognizes the interconnectedness of physical, psychological, emotional, social and spiritual health. Healthy beings only can exist in a healthy environment. To keep the planet and people healthy, we need food systems designed to protect natural resources, absorb greenhouse gas emissions, provide nutritious and affordable food, and strengthen the resilience and prosperity of rural populations.[x]
The right to be free from contamination, pollution, toxic or radioactive waste. Pollution from the by-products of modern society have contaminated the entire world. There are now 15–51 trillionpieces of plastic in the world's oceans. Thousands of seabirds and sea turtles, seals and other marine mammals are killed each year after ingesting plastic or getting entangled in it. The fossil fuel industry plans to increase plastic production by 40 percent over the next decade in petrochemical plants across the United States to turn fossil natural gas liquids extracted by hydraulic fracturing into single-use plastic.[xi]
The right to not have genetic structure modified or disrupted in a manner that threatens integrity or vital and healthy functioning. 105 commonly used agricultural pesticides, fungicides and herbicides have endocrine- disrupting effects on wildlife.[xii] In addition, the use of genetically modified organisms in agriculture and other industrial processes compromises wild stocks as pollen travels without restriction on the winds.
The right to full and prompt restoration from violations caused by human activities. Many environmental harms from extractive industry particularly are not reversible. Extinction is forever. And for some damages, there is no recovery possible. For example, Mountain top removal mining of thin coal seams has destroyed 500 mountains throughout Appalachia.[xiii] The "restored mine sites have vastly different, less diverse landscapes subject to erosion and acid runoff.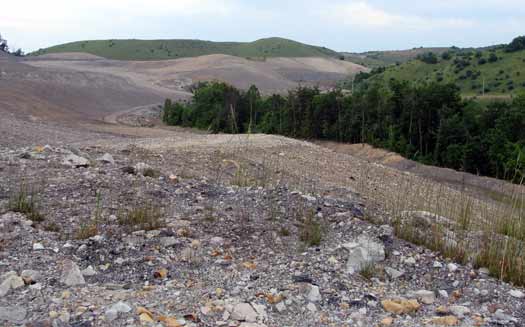 "Restored" mountain top removal coal mine site in West Virginia.
The Universal Declaration of the Rights of Mother Earth articulates an urgent plea for use of the precautionary principle in shaping the relationship of human activity to the natural world. The concept of protecting, and restoring to the extent possible, the natural systems of the earth lies at the heart of preserving the priceless life support systems of the living earth for current and future generations. As Rachel Carson wrote in her essay "On the Pollution of Our Environment,"
Underlying all these problems of introducing contamination into our world is the question of moral responsibility – responsibility not only to our own generation, but to those of the future.[xiv]
In some cases, the harms to the environment or to living systems may not be known until long after the fact. But in many cases, especially with modern techniques for assessing biologic harm, the potential for harm is either well established, or can be shown to be highly likely. For example, Bristol Bay Alaska is home to the largest wild salmon run in the world. The open pit Pebble Creek Mine, if it begins operation, would end this $1.5 Billion fishery from arsenic contamination.[xv] Arsenic released from mining gold and highly soluble in water, even in minute amounts is toxic to salmon especially as they spawn and in the juvenile stages of growth. The livelihood of over 14,000 people directly depends on the wild runs of salmon, including the subsistence villages of Bristol Bay.[xvi] Even species as abundant as salmon can vanish quickly if critical habitat is lost, or harvesting is heedless of regenerative needs, as happened with the abrupt extinction of the Passenger Pigeon.[xvii] Some harms are not reversible. Extinction is forever.
A Matter of Ethics and Justice
How we as a society address the challenges of climate change is not a matter of technology, but rather a matter of justice and ethical choices on several levels. Most urgently, addressing climate change effectively now is a matter of intergenerational justice. Actions taken or not taken by the current generation will markedly affect the fate of future generations. While this has always held true in the past, these times are different because actions taken today will have irreversible consequences that compromise options for the future. It is important to recognize that within the range of options available now, there are many choices that will lead to a better future, without relying forever on fossil fuels. For example, the re-Imagine Beaver project facilitated by the League of Women Voters in Beaver County PA developed a four-part plan for diversifying and renewing the economy as an alternative vision to having the Shell Appalachia Petrochemical Plant dominate the area's economy.[xviii]
Climate action is also a matter of international justice because the effects of global warming are not evenly distributed around the world. The richest 10% pf people produce half of the global carbon dioxide emissions, while the poorest 50% of people produce only about 10% of global carbon dioxide emissions.[xix] Globally, the industrialized countries mostly in the northern hemisphere are greatest causes of pollution and greenhouse gas emissions, but the greatest damages from resource extraction and global warming occur in the southern hemisphere among poorer nations. Global market drive resource extraction practices that destroy habitat as well. For example, palm oil used for snack foods devastates 27 million Hectares of tropical rainforest and is endangering hundreds of native plants and animals.[xx] Island nations and coastal areas along all continents are affected by sea level rise, more extreme and frequent storms and tidal surges. Even within single nations such as the United States, climate change has varied geographic effects. Coastal areas suffer flooding and storm surge while other areas suffer from prolonged droughts, wildfires, and advancing deserts. The World Bank estimates there will be 140 million climate migrants fleeing lands made uninhabitable by loss of water due to climate change.[xxi]
People of all faiths all around the world hold common concern for the well-being of people and for the need for justice and equity in interpersonal transactions. As a civilized society, we must consider the present and impending conditions that require understanding, empathy for our fellow beings, and a sense of obligation for the welfare of future generations. We must recognize that the laws of Nature are NOT negotiable. Humans cannot legislate the laws of chemistry or physics or the biologic system responses to changes in the environment. We must adjust our laws and cultural customs to live in harmony with Nature. The time for exploitation and subjugation of Nature for short term profits is over if we are to survive as a species.
A Transformation for a Better Future
When faced with the alarming facts of the effects of climate change, many people respond with fear. At the hearings on the Clean Power Plan in the summer of 2016, the streets of Pittsburgh were filled with demonstrators on both sides of the proposed action to close coal power plants and move toward renewable energy systems. Coal miners and their allies in the IBEW, AFL-CIO and trades unions marched 3,500 strong with uniform T-shirts, loudspeakers and goading from Governor Corbett. In contrast, a few hundred assorted environmental activists, mothers with children in strollers, and students gathered on the corner of Grant Street near the Federal Building to chant and sing. This sharply drawn contrast belies the reality under the demonstrations. Coal miners understand that their work gives them lung diseases and faces a stark future, but their fear stems from knowing that if nobody goes into coal mining, there will be no new workers to support their pensions, health benefits and families. Laws protect corporations in bankruptcy, but as has been evident as Patriot Coal, Murray Coal and others have gone bankrupt, the workers are left with pennies on the dollar to fend for themselves.[xxii] Union strength has eroded significantly, and many workers in the oil and gas fields are not unionized. Transformation to a sustainable economy must address the entire social fabric of our culture, not just fuel switching. The human face of the transformation must be a major part of the way forward. The AFL-CIO statement to the Copenhagen Climate Accord states: "We are asking for a just transition of the workforce that creates decent work and quality jobs." [xxiii] But the climate crisis is much more complex than a simple transition. It requires a rearranging of the elements of our society to reach a sustainable civilization, much as the caterpillar becomes a butterfly.
We must make a plan to move to a sustainable future. The tools for this process are at hand, lacking only the political will to move forward. There are three principal pathways for our sustainable future:
Renewable Energy Systems that conserve and restore resources
Regenerative Agriculture for a non-toxic food system that captures carbon in fertile ground
Pollution Prevention and A Circular Economy for materials designed for re-use from benign materials.[xxiv]
Steps in the transformation require a comprehensive approach, recognizing that as sustainable systems become more prevalent, the process of adopting them will become more sophisticated and streamlined in practice. Take for example the shift from horse-drawn carriages to motorized vehicles and consider the many adjustments that took place. Rules of the road had to be established to keep drivers from running into each other. Roads had to be paved so vehicles would not become bogged down in mud, and vehicles were licensed to certify drivers. An entire fuel delivery and supply infrastructure had to be established. Horseshoe operations, blacksmiths, tack shops and buggy makers all saw the decline and extinction of their business. Now, as we look at a transformation of the energy system to renewable resources, we have similar adjustments facing us. The utility interface changes when the customers also produce energy some or all of the time. Zoning issues and building codes become a consideration if net zero energy buildings are to become standard practice. Converting the energy system from a fossil-based operation to a renewable energy system will require attention to micro-grid integration using artificial intelligence to balance load and supply and offers the new utility service function of storage and load leveling. Technologies such as hydrogen fuel cells and anaerobic digestion of waste to make non-fossil methane or hydrogen become more economic options. Similar changes will need to occur in food systems, transportation and materials management.[xxv]
The transformation to a society living in harmony with nature will place priority on protecting biodiversity in all areas of the world, as an excellent indicator for the health of the complex ecosystems that comprise Earth's life support system. We are facing a critical time in which we will choose the fate of our living Earth for hundreds of years into the future. In making the critical choices about energy and all resource management, we must place greater value on the living things, rather than on the short-term profits to corporations as the dominant driver. The plan. For a just transition must address the needs of people caught in the transition- the oil, gas, and coal workers especially, who will need to transition to new ways of working in new fields. Just and equitable solutions will need to include protecting pensions, health benefits and re-training for existing workers. A companion to a policy of re-investing in communities can empower people to re-structure our society with a more diverse and locally responsible economy.
We need a new system of governance that relies on a doctrine of public trust for natural resource management. In such a system, common resources are managed for the long-term benefit of the whole of society collectively, rather than to be owned and divided to profit individuals or corporate owners. A particular major change in this approach would place the ecosystem services, mostly on the surface of the earth, as priority for protection above the rights for extracting mineral deposits from deep underground. Such an approach recognizes the priceless value of the services the living earth delivers to all living things for free, as conditions of mutual support. We can transform our society to align with the natural cycles of resource use, recovery and re-use, rather than changing raw material to trash as rapidly as possible.
The Moral Imperative
Humanity now faces global crisis conditions: Carbon Dioxide concentrations in the atmosphere have reached at 412 parts per million, the highest level in 650,000 years; 2019 is the hottest year on record since 2001; Arctic ice sheets are decreasing at 12.8% per decade; and coastal flooding worldwide is common as sea levels rise and oceans warm.[xxvi] Storms, wildfires, and prolonged drought conditions affect broad areas of the world. In the face of these dire facts, children all over the world have stood up to plead for action on climate to protect their future. How can we ignore the pleas of our children as they protest, file lawsuits, demonstrate and march for the right to live on a viable planet?[xxvii]
There are no technological barriers to making rapid and meaningful changes toward sustainable climate solutions. All of the technologies necessary to address the major sources of global warming and global pollution are in hand and will only improve in effectiveness as they become more widely adopted. Only the political will to act stands in the way of transforming our economy. Over 73% of Americans want action on climate change but are deeply divided on partisan lines (67% of Democrats and 21% of Republicans)[xxviii] The U. S. Constitution vests the power of government in The People. We have the power to act to save our world.
The best way to move forward is to remember that we are more alike in our common humanity than different in political stance, race, gender, religion or culture. If we protect the rights of the living Earth and connect our own fate to the fate of the natural world, we will find the courage to make the necessary changes. The result will be a better future and the legacy of a renewed sense of wonder in the miracle of creation. Each person can act. Each person matters in the great interconnected web of life. Here is Rachel Carson's conservation pledge:
I pledge myself to preserve and protect America's fertile soils, her mighty forests and rivers, her wildlife and minerals, for on these her greatness was established, and her strength depends.[xxix]
Decide to leave our children a living Earth. Thank you.
---
Presented to Integrity of Creation Conference: toward a Healthy Planet at Duquesne University on September 25, 2019
Citations and Sources
[i] Associated Press. "Armstrong's "one small step" quote explained." Navy Times. July13, 2019. https://www.navytimes.com/news/your-navy/2019/07/13/armstrongs-famous-one-small-step-quote-explained/ Accessed September 23, 2019.
[ii] Robert Costanza, Ralph d'Arge, Rudolf de Groot, Stephen Farber, Monica Grasso, Bruce Hannon, Karin Limburg, Shahid Naeem, Robert V. O'Neill, Jose Paruelo, Robert G. Raskin, Paul Sutton, Marjan van den Belt. "The Value of the World's Ecosystem Services and Natural capital." Nature. 387: 253-260 (1997) https://www.nature.com/articles/387253a0#auth-2 Accessed September 19, 2019.
[iii] United Nations Environment Programme (2019). Emissions Gap Report 2019. UNEP, Nairobi. https://www.unenvironment.org/resources/emissions-gap-report-2019 Accessed September 19, 2019.
[iv] IPCC. "Global Warming of 1.5°C, an IPCC special report on the impacts of global warming of 1.5°C above pre-industrial levels and related global greenhouse gas emission pathways, in the context of strengthening the global response to the threat of climate change, sustainable development, and efforts to eradicate poverty." October 8, 2018. https://www.ipcc.ch/2018/10/08/summary-for-policymakers-of-ipcc-special-report-on-global-warming-of-1-5c-approved-by-governments/ Accessed September 18, 2019.
[v] United Nations. The 2030 Agenda for Sustainable Development. New York. September 2015. https://sustainabledevelopment.un.org/?menu=1300 Accessed September 19, 2019.
[vi] World People's Conference on Climate Change and the Rights of Mother Earth. "Universal Declaration of Rights of Mother Earth." Cochabamba, Bolivia, April 22, 2010 https://therightsofnature.org/wp-content/uploads/FINAL-UNIVERSAL-DECLARATION-OF-THE-RIGHTS-OF-MOTHER-EARTH-APRIL-22-2010.pdf Accessed September 19, 2019.
[vii] Kenneth V. Rosenberg, Adriaan M. Doktor, Peter J. Blancher, John R. Sauer, Adam C. Smith, Paul A. Smith. "Decline of the North American Avifauna." Science. 4 Oct 2019. Vol 366, Issue 6461, pp 120-124. https://science.sciencemag.org/content/early/2019/09/18/science.aaw1313
[viii] Terry P. Hughes, James T. Kerry, Andrew H. Baird, Sean R. Connolly, Tory J. Chase, Andreas Dietzel, Tessa Hill, Andrew s. Hoey, Mia O. Hoogenboom, Mizue Jacobson, Ailsa Kerswell, Joshua S. Madin, Abbie Mieog, Allison S. Paley, Morgan S. Pratchett, Gergley Torda, & Rachel M. Woods. "Global warming impairs stock-recruitment dynamics of corals." Nature. 18 April 2019. Nature Vol. 568. Pages 387-401. https://www.nature.com/articles/s41586-019-1081-y.epdf Accessed September 19, 2019.
[ix] Rigaud, Kanta Kumari; de Sherbinin, Alex; Jones, Bryan; Bergmann, Jonas; Clement, Viviane; Ober, Kayly; Schewe, Jacob; Adamo, Susana; McCusker, Brent; Heuser, Silke; Midgley, Amelia. 2018. Groundswell : Preparing for Internal Climate Migration. World Bank, Washington, DC. © World Bank. https://openknowledge.worldbank.org/handle/10986/29461 License: CC BY 3.0 IGO. Accessed September 19, 2019.
[x] World Health Organization. World Health Statistics 2018: Monitoring Health for the SDGs. https://www.who.int/gho/publications/world_health_statistics/2018/en/ Accessed September 19, 2019.
[xi] Center for Biological Diversity. "Ocean Plastics Pollution: A Global Tragedy for Our Oceans and Sea Life." https://www.biologicaldiversity.org/campaigns/ocean_plastics/ Accessed September 20, 2019.
[xii] Mnif, Wissem & Ibn hadj hassine, Aziza & Bouaziz, Aicha & Bartegi, Aghleb & Thomas, Olivier & Roig, Benoit. (2011). Effect of Endocrine Disruptor Pesticides: A Review. International journal of environmental research and public health. 8. 2265-303. https://www.researchgate.net/publication/51508758_Effect_of_Endocrine_Disruptor_Pesticides_A_Review Accessed September 18, 2019.
[xiii] Appalachian Voices. "Mountaintop Removal 101." http://appvoices.org/end-mountaintop-removal/mtr101/
Accessed September 19, 2019.
[xiv] Rachel Carson. "The Pollution of Our Environment." In Linda J. Lear (Ed.) Lost Woods – The Discovered Writing of Rachel Carson. Beacon Press. Boston. 1998. Pages 228-245.
[xv] Businesses for Bristol Bay. Economic Impact. https://www.b4bb.org/economic-impact Accessed September 20, 2019.
[xvi] Earthjustice. "Bristol Bay Salmon threatened by Pebble Creek Mine." October 9, 2019. https://earthjustice.org/features/alaska-s-bristol-bay-the-pebble-mine Accessed December 7, 2019.
[xvii] Patricia M. DeMarco. "Moving Targets- A Reflection on a Century Passing. March 13, 2015. https://patriciademarco.com/2015/03/13/moving-targets-a-reflection-from-a-century-passing/
[xviii] Mark Dixon, Heather Haar, Andre Goes, Joanne Martin, Connor Mulvaney, Sophie Riedel. Re-Imagine! Beaver County. Spring 2019. https://breatheproject.org/app/uploads/1970/01/920114-LWVP-Re-Imagine-Beaver-County-Book.pdf Accessed September 19, 2019.
[xix] Timothy gore. Extreme Carbon Inequality. 2 December 2015. Oxfam International. https://oi-files-d8-prod.s3.eu-west-2.amazonaws.com/s3fs-public/file_attachments/mb-extreme-carbon-inequality-021215-en.pdf Accessed September 20, 2019.
[xx] Rainforest Rescue. "Palm oil- deforestation for everyday products." https://www.rainforest-rescue.org/topics/palm-oil Accessed December 7, 2019.
[xxi] Rigaud, Kanta Kumari; de Sherbinin, Alex; Jones, Bryan; Bergmann, Jonas; Clement, Viviane; Ober, Kayly; Schewe, Jacob; Adamo, Susana; McCusker, Brent; Heuser, Silke; Midgley, Amelia. 2018. Groundswell : Preparing for Internal Climate Migration. World Bank, Washington, DC. © World Bank. https://openknowledge.worldbank.org/handle/10986/29461
License: CC BY 3.0 IGO. Accessed December 7, 2019.
[xxii] Matt Egan. 'Nervous and scared" – Coal Workers Fear for Pensions after Murray Coal Bankruptcy. CNN Business. New York. November 1, 2019. https://www.cnn.com/2019/11/01/business/murray-energy-coal-bankruptcy-pension/index.html Accessed December 7, 2019.
[xxiii] International Trade Union Confederation. Resolution on Climate Change action. July 12, 2018. https://www.ituc-csi.org/the-4th-ituc-world-congress-20807 Accessed September 19, 2019.
[xxiv] Patricia M. DeMarco. Pathways to Our Sustainable Future- A Global Perspective from Pittsburgh. University of Pittsburgh Press. Pittsburgh PA. 2018.
[xxv] Patricia DeMarco. Pathways to Our Sustainable Future- A Global Perspective from Pittsburgh. University of Pittsburgh Press, Pittsburgh, 2018. Pages 193-210.
[xxvi] United States Environmental Protection Agency. Climate Change Indicators in the United States 2016. Fourth Edition. https://www.epa.gov/climate-indicators/climate-change-indicators-us-and-global-temperature Accessed September 19, 2019.
[xxvii] Juliana VS. United States https://www.ourchildrenstrust.org/juliana-v-us Over 400 such lawsuits are pending at various stages in the United States courts.
[xxviii] Leiserowitz, A., Maibach, E., Rosenthal, S., Kotcher, J., Bergquist, P., Ballew, M., Goldberg, M., & Gustafson, A. (2019). Climate change in the American mind: April 2019. Yale University and George Mason University. New Haven, CT: Yale Program on Climate Change Communication. https://www.climatechangecommunication.org/wp-content/uploads/2019/06/Climate_Change_American_Mind_April_2019b.pdf Accessed September 19, 2019.
[xxix] Linda J. Lear. Rachel Carson – Witness for Nature. Henry Holt & Company. New York. 1997. Page 137.